Operations
Large Format Inkjet Printers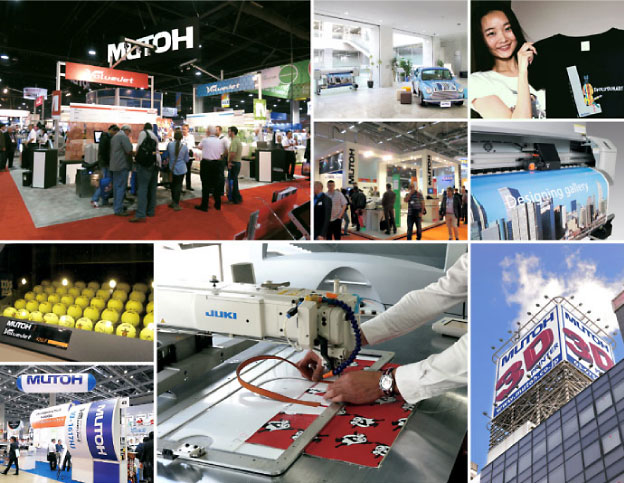 Large-format inkjet printers have undergone a significant transformation from printers to production machines. In addition to the original use of poster and sign printing, printing has become more diverse, with applications including the textile field such as silk and polyester fabrics and printing on plastic, cardboard, and glass.
Since bringing Japan's first large-format inkjet printer for outdoor advertisement into the world, MUTOH has supported user needs by creating many unique features that include Drop Master ink discharge control technology that enables high-definition printing through its printing technologies and know-how that have been passed down over generations. MUTOH constantly provides technology that is one step ahead with its large-format inkjet printers.
■ Signs and displays
High productivity, the ability to respond rapidly, and reductions in initial and running costs are simultaneously being called for in the sign and display industry.
MUTOH has resolved all these issues through its ValueJet series.
The ValueJet series for signs and displays achieves low-cost, high-speed image generation by supporting high-capacity ink packs that improve productivity. Furthermore, various forms of media and a wide range of quality are supported through abundant image creation effects that improve image quality, and a variable dot function that supports three types of different dot diameters (large, medium, and small).
■ Textiles and soft signage
We have the capacity to respond to needs that is essential for capturing business opportunities. The ValueJet series for textiles and soft signs supports two types of ink, which makes double-support possible for sublimation transfer ink and direct sublimation ink, and also enables support of both the small-lot multi-product sports apparel sector and the large-lot sign and display sector. In addition, we provide high quality and high cost-performance in every field through printers such as dedicated garment printers for t-shirts, polo shirts, etc.
■ Multi-purpose printing
Large-format inkjet printers are evolving into production machines, as it becomes necessary to print on various materials that include plastic, cardboard, and glass. The ValueJet series for multi-purpose printing has resolved this issue by supporting multi-purpose ink that can be used with any type of materials and UV ink that excels in quick-drying and friction-resistant qualities.
We support user needs from large-format size for industrial use to A3-ledger size for personal use.
MUTOH is broadly expanding the scope of its business.
■ CAD inkjet plotter
Design work is essential for manufacturing. MUTOH has been greatly involved in design fields ranging from drafters to CAD systems and pen plotters. MUTOH' S CAD inkjet plotter DrafStation series enables high-quality image creation for drawings, including graphic elements such as construction perspective drawings, 3D CAD drawings, and photo image fill-ins.
We support even higher quality drawing creation that vividly fulfills the desires of designers for "faster, more beautiful, and easier to use" products.
■ Supply and maintenance
Daily operations are a competition with time.
Problems such as the lack of ink used for printing or others that should not occur can result not only in a delay of operations, but also major economic losses at times. MUTOH's Supply and Maintenance Businesses prevent the occurrence of such unexpected events.
Through prompt maintenance support when problems occur in addition to the speedy provision of supplies such as ink that supports various user needs and regular maintenance, MUTOH supports users through a back-up system that gathers together the collective strengths of the Group.
3D printings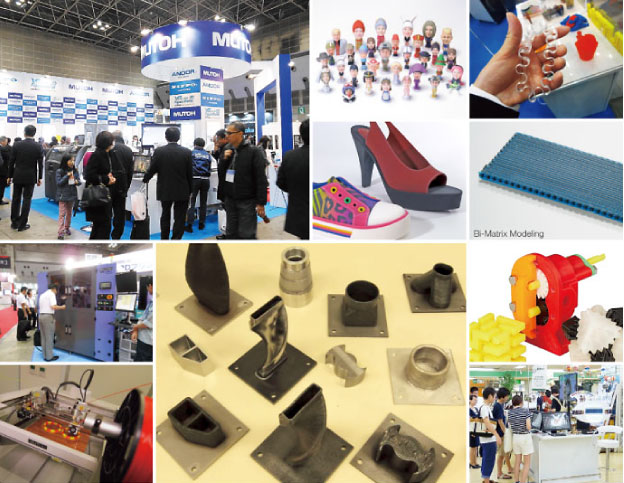 3D printers create three-dimensional objects from digital data. In addition to being a form of equipment for the streamlining of the design-to-prototype process, there are now also high hopes that 3D printers will become a tool for industrial revolution in order to achieve ultimate high-mix, low-volume production.
MUTOH has a lineup of products in all fields including desktop models that give form to idea, professional models that enable high-precision molding, and production models that deliver high cost performance. In addition, we have developed a wide range of business domains and service structures from hardware to solutions, including a 3D printing service.
MUTOH supports the needs of customer in one stop.
■ Desktop model
You want to immediately give form to the idea you came up with.
The fused filament fabrication (FFF) desktop models support needs such as those of industrial designers and 3D artists.
MUTOH has a product lineup of original printers in series. The lineup outperforms in terms of high accuracy, high resolution, and usability in the desktop market. MUTOH's original desktop 3D printers provide full Japanese support for software, manual, customer support, etc. We deliver secure quality and reliability.
■ Professional model
Molding professionals have strong needs for global top-level print speed and productivity.
MUTOH has a lineup that includes photopolymer and full-color plaster powder types (3D Systems, Inc.) that have established a strong reputation in response to prototype needs, 3D figure printing, and other applications. User needs are supported with this lineup.
■ Production models
Production models are generating high hopes as an industrial revolution tool for achieving ultimate high-mix, low-volume production. MUTOH has a lineup of original products that include metal 3D printers that employ arc-welding technology and achieve high speed, high strength, and low costs, and large industrial FFF models that support engineering plastic output and enable "bi-matrix structuring" that creates new materials.
■ 3D print service
Users want to enjoy 3D figures in a more intimate manner.
Users want to use 3D printing in a manner more closely aligned with their business.
MUTOH supports these needs through its 3D print service.
MUTOH has spread the charm and enjoyment of 3D printing among even more people by delivering treasures that are unique in the world, ranging from familiar full-body figures from the 3D photo gallery to the entertainment of the Value 3D Figure World that allows users to make a 3D scan of their face, and then apply over 100 types of costumes, hairstyles, and color combinations.
MUTOH is also expanding 3D print applications by offering services in business areas including housing presentations and design prototypes.
Design and measurement instrument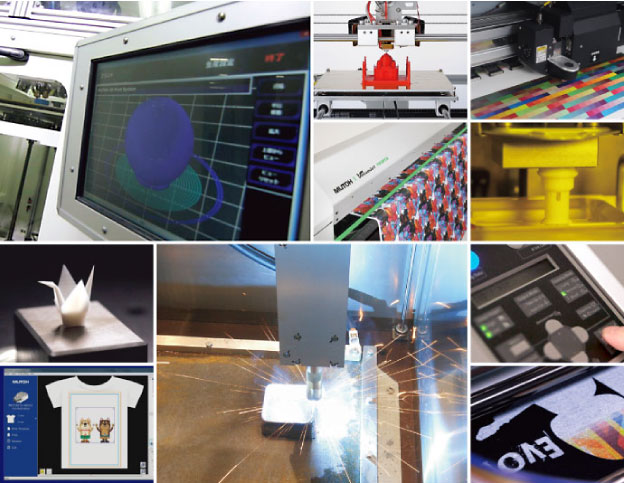 MUTOH's Systems and IT Solutions business resolves the management issues businesses face.
In addition, MUTOH's IT technologies are also utilized in areas close to our everyday lives such as social infrastructure. We offer systems proposals and software made possible through our continued support of the field in manufacturing. The know-how MUTOH has developed for systems ranging from design to manufacturing and information management has been incorporated in the MUTOH product lineup as optimal systems for the needs of customers. MUTOH's Systems and IT Solution business is performing its essential value as the source for MUTOH's competitive strength as a company that supports manufacturing.
■ CAD solutions
Drafters have transformed design work. This spirit of work efficiency and the ideas of designers are utilized in MUTOH's CAD solutions as know-how developed over many years.
Workability that feels like a drafter offered through the CAD package has been well received as software that provides the optimal design environment for designers, and the CAD package has continued to support users through product expansion from 2D to 3D. MUTOH's CAD solutions package that contributes to more efficient design work offers benefits that include low costs, a faster time to deployment, and high reliability. MUTOH contributes to high cost performance through the creation of each of these systems.
■ Drawing and Design
Drafters nearly disappeared from the design field with the spread of CAD systems. In recent years, drafters have again gained attention as people are rethinking their value in terms of cultivating the sensibility of designers and the basics of drafting.
MUTOH's drafters and parallel rulers literally become the arms, hands, and fingers of designers and allow them to draw exactly as they intend.
We will continue supporting all designers who have high demands regarding drawing and who value their own sensibility and inspiration.
■ Measurement and Control Devices
The Digicolor series supports measurement and processing control needs for industrial machines and equipment such as production machinery and measurement equipment. This lineup, consisting of products such as rotary encoders, unique wire linear encoders, and high-resolution linear scales, has a broad range of functions including detection, display, and control.
The Digicolor series strongly supports automation and labor savings in production with extremely high accuracy, performance, and efficiency.